Posts tagged
Cash for cars Catonsville
0
Dreams Do Come True
If you have been dreaming for a junk place that can come and pick up your car in the Catonsville area, your dream has been answered and we are the place to call. We have been hearing a lot of people talking about other companies giving quotes over the phone but when they arrive they offer a much lower price and say they can not give you the price they quoted, our company we will never do that to you, why you ask? Because we don't believe in it, never have never will. The price we tell you over the phone is guaranteed, we never will adjust the price upon arrival, ever. Not only do we pay the most cash for any and all automobiles around but we are passionate about our customers experience from the first phone call to when we haul it away if your not happy were not happy.
We don't just service Baltimore, we also can take care of you folks in nearby areas. We have had a few calls asking us if we can Service Catonsville so I took the time to write this blog to address this question. Even if your a little out of town we would be happy to come take care of you. So if your looking to get cash for your junk vehicles and want to deal with a real straight shooting company like us, there is no need to worry about anything, so give us a call today and let us take that old junky, scrappy vehicle out of your life and pay you money for it.
It starts snowing outside and you go out to start your car to go to work.  It is below zero and it turns out your car does not do well in the cold weather.  It is one of those things that some vehicles have issues with.  some cars are just hard to start because they do not like the cold weather at all.  So you turn the key and go to start the car and after a couple of minutes of trying to get it to start, it finally fires up.
You let it warm up for a little longer because you have been through this before and you know that your car will sound like it is ready to drive, but once you get in there and put it into reverse and start backing up, your car has been known to die.  So you let it idle a while longer so you can make sure that your vehicle is ready to go, when it is time for you to leave.
You vehicle isn't one of those cars that have a smooth ride, but it has gotten you through the rough times of your life when you have had your ups and downs, your car has always been there.  However, sometimes enough is enough, when it finally dies out for the last time and you decide that you don't want to put any more money into it.  You decide to give it up for good and it is time to bury it in the ground and say a prayer.
We are here for you, if you need a shoulder to cry on, we are here.  Just call us up and we will get you a quote quickly.
Call us now!
0
Cash For All Junk Vehicles in Catonsville
If your looking to get rid of your junk vehicle in Catonsville then you my friend have come to the right place. From what we have found most people feel like they might be to far out of the way and no one will want to come get there car or you wont get to much money for it. Not us, we are willing to go around to nearby cites and towns no problem. You don't necessarily have to be in Baltimore city limits for us to send a truck.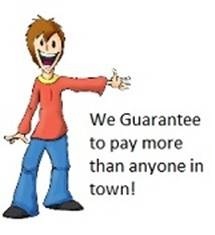 What you will soon find is the small time guys right down the road will not be able to pay as much for your car. We can go to places like Catonsville, Woodlawn, Towson, Parkville, Overlea, Dundalk (just to name a few areas) and still be able to pay you top dollar. If your going to Junk your automobile in these areas we are the people to call, we will be happy to come take your old junk, rusted, busted, or beaten vehicle off your hands and give you cash, today.
We are very proud of people.  Every couple of weeks we post some kind of message about, you know, whatever; about our company, about everyday life, it doesn't matter, we go over it all. Sometimes we just talk and like to think that sometimes we have the best talks around, we have a personal relationship with all of our customers and they always come back to the place where they were happy.  A very true statement….
We do buy any and all vehicles and we do it in style.  We have buyers waiting by the phones right now to talk to you and get you set up with a pick up time.
There are only a couple of things you need to have when you deal with us your title and your ID, we have to make sure that your name matches with your car, so that we know for sure that you are the owner.  However, if you don't have your title that is ok, because we can also use your registration and just as log as that matches your ID we are good to go.
There are only so many places in town that offer you the right amount of money for your vehicle and that one company that I know of for sure is us.  We are a legit company, fully licensed and bonded.  We are a legally operational company who have drivers on route all day picking up customers cars.
I know for a fact once you have tried us, you won't go anywhere else.  If you don't believe me, give us try right now! Call us immediately and test us.  It is OK to test the waters sometimes to see if somebody is actually telling you the truth or not.  Well, we have nothing to worry about, because we don't lie.
If you are looking for the most cash in your pocket today, call us now!