Remove that Junker Today for Cash in Baltimore
Remove that Junk Today

When You need to buy a new car, sometimes your old one just doesn't have any value left. That is when our company comes into play. We scrap hundreds of vehicles a week and we still have room for yours.  There are a number of car removal companies all over the city. Some car removal companies may slap owners with hidden fees for towing. Rest assured, we do not blindside customers in this way. We are the highest rated and highest paying company in Baltimore. we service the whole Baltimore metro area too When your old clunker has been a nuisance to you, or if your car has a leakage that is affecting your environment.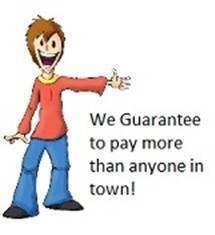 We buy cars, so get paid today and we'll provide you with 100% free removal of that vehicle of yours. So don't think about others and don't waste your time, Pick up your phone & give us your valuable call. Then we will come & take your all tension about your car without any charge. Moreover you need not to worry to tow your car, only you have to give us a call and we will show up within few hours and professionally remove whatever scrap car that you have tucked away. If you are from the north part of town around in the Baltimore area, don't hesitate to call us. Don't hesitate to call if you think you are too far out there for us to get to you. We travel far distances. When trying to decide where to sell your vehicle, why not put your trust in a company that is open, honest, and can get the job done without any unpleasant surprises?
How many companies do you know will give you an honest quote over the phone, guarantee it, and show up and remove it for free? Well, I don't know many, but, we will!
You can be more confident knowing that there is a company out there that will take care of you by giving you the most cash, showing up and towing away your vehicle at no cost to you.
Our process is very simple, there are only a couple of documents you need to get this process going.  Well, first you need to call us, that part is very important, make sure before you call us you have your title and your ID.  We have to prove that the vehicle is yours.  However, if you don't have your title we can operate with out one, but we still need to make sure that the name matches your ID.
Call us up and within 30 seconds or less, you will have your quote and you will be waiting for our dispatch to contact you to schedule a pick up with you.  Then once our dispatch calls you, you will be on your way to getting your car removed off of your property.  Isn't that great!
If you have never trusted a company like us, now is the time to start.
Call us now!