Cash For Cars Baltimore
0
Cash For All Junk Vehicles in Catonsville
If your looking to get rid of your junk vehicle in Catonsville then you my friend have come to the right place. From what we have found most people feel like they might be to far out of the way and no one will want to come get there car or you wont get to much money for it. Not us, we are willing to go around to nearby cites and towns no problem. You don't necessarily have to be in Baltimore city limits for us to send a truck.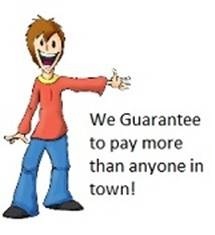 What you will soon find is the small time guys right down the road will not be able to pay as much for your car. We can go to places like Catonsville, Woodlawn, Towson, Parkville, Overlea, Dundalk (just to name a few areas) and still be able to pay you top dollar. If your going to Junk your automobile in these areas we are the people to call, we will be happy to come take your old junk, rusted, busted, or beaten vehicle off your hands and give you cash, today.
We are very proud of people.  Every couple of weeks we post some kind of message about, you know, whatever; about our company, about everyday life, it doesn't matter, we go over it all. Sometimes we just talk and like to think that sometimes we have the best talks around, we have a personal relationship with all of our customers and they always come back to the place where they were happy.  A very true statement….
We do buy any and all vehicles and we do it in style.  We have buyers waiting by the phones right now to talk to you and get you set up with a pick up time.
There are only a couple of things you need to have when you deal with us your title and your ID, we have to make sure that your name matches with your car, so that we know for sure that you are the owner.  However, if you don't have your title that is ok, because we can also use your registration and just as log as that matches your ID we are good to go.
There are only so many places in town that offer you the right amount of money for your vehicle and that one company that I know of for sure is us.  We are a legit company, fully licensed and bonded.  We are a legally operational company who have drivers on route all day picking up customers cars.
I know for a fact once you have tried us, you won't go anywhere else.  If you don't believe me, give us try right now! Call us immediately and test us.  It is OK to test the waters sometimes to see if somebody is actually telling you the truth or not.  Well, we have nothing to worry about, because we don't lie.
If you are looking for the most cash in your pocket today, call us now!
0
Cash for your Vehicle in Baltimore – Get Cash For Your Vehicle Today!
Are you looking for a place to get cash for junk vehicles in Baltimore? Perfect, because we are that place! We are a huge car buyer that buys your cars, and sends a tow truck to pick it up. We buy cars sight unseen. There is nothing that is too junky. We buy everything and anything. It is very easy to sell your car to us today. We have set up a simple process in order to make it as simple as possible for you. We do almost all the work, and customer satisfaction is our main concern.
Process for getting cash in Baltimore
1. Contact us by phone or fill out form for online quote.
2. If you agree to the price that we offer, then we will get you set up in the system for a pickup.
3. After that, a dispatcher from the tow company will contact you to schedule a pickup and payment of your vehicle.
4. The tow truck will show up at the location of the vehicle, and will pay you for the car.
5. You sign the paperwork, and the driver will load up your car.
6. The tow truck leaves with your old junk vehicle, and your now have money.
It really is that easy to sell your car today.
Call us if you are looking to sell your junk vehicle for cash. Our main focus of our company is to make sure that you are very happy after dealing with us. The only reason for our success so far is because we believe highly in honest business. We know that dishonest business goes down eventually. Our #1 focus is always to make sure that the customer is happy. If our customer is happy with us, then when they need the service again, or know someone who does; then they will call or recommend us. So we receive repeat business. We love all of our customers, because without you…there is no us. If there is no us…then how will people get cash for their junk automobiles in Baltimore, Maryland?
You can always count on us to be as honest as possible about helping you take care of your car problem. If we cant help you, or we think that you will be better off going a different route with what you have, then we will definitely tell you that. We aren't out to scam and screw people. We are out to help people get out of their problem. Of course we are in business to make money, but helping people first is what somehow allows the money to follow. We know that if we just do our best to provide an honest service. We will always be taken care of financially. So your best interest is our best interest.
 Get Cash for your Vehicles in Baltimore, Md
Call us today and get the process started. Don't be scared of how junky your rig may be. We have seen it all. We pretty much buy anything and everything.
Call Today
(410)-793-7218