Cash for your Clunkers in Catonsville
Cash For All Junk Vehicles in Catonsville
If your looking to get rid of your junk vehicle in Catonsville then you my friend have come to the right place. From what we have found most people feel like they might be to far out of the way and no one will want to come get there car or you wont get to much money for it. Not us, we are willing to go around to nearby cites and towns no problem. You don't necessarily have to be in Baltimore city limits for us to send a truck.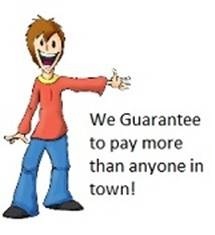 What you will soon find is the small time guys right down the road will not be able to pay as much for your car. We can go to places like Catonsville, Woodlawn, Towson, Parkville, Overlea, Dundalk (just to name a few areas) and still be able to pay you top dollar. If your going to Junk your automobile in these areas we are the people to call, we will be happy to come take your old junk, rusted, busted, or beaten vehicle off your hands and give you cash, today.
We are very proud of people.  Every couple of weeks we post some kind of message about, you know, whatever; about our company, about everyday life, it doesn't matter, we go over it all. Sometimes we just talk and like to think that sometimes we have the best talks around, we have a personal relationship with all of our customers and they always come back to the place where they were happy.  A very true statement….
We do buy any and all vehicles and we do it in style.  We have buyers waiting by the phones right now to talk to you and get you set up with a pick up time.
There are only a couple of things you need to have when you deal with us your title and your ID, we have to make sure that your name matches with your car, so that we know for sure that you are the owner.  However, if you don't have your title that is ok, because we can also use your registration and just as log as that matches your ID we are good to go.
There are only so many places in town that offer you the right amount of money for your vehicle and that one company that I know of for sure is us.  We are a legit company, fully licensed and bonded.  We are a legally operational company who have drivers on route all day picking up customers cars.
I know for a fact once you have tried us, you won't go anywhere else.  If you don't believe me, give us try right now! Call us immediately and test us.  It is OK to test the waters sometimes to see if somebody is actually telling you the truth or not.  Well, we have nothing to worry about, because we don't lie.
If you are looking for the most cash in your pocket today, call us now!